SPORTS SPONSORSHIP & ACTIVATION
Sportingclass have been chosen by a cross-section of clients to source, establish and manage sponsorship opportunities and deliver subsequent sponsorship activation via the medium of sport.
We work with our clients strategically to ensure brand image and allocated rights are maintained and successfully connected to the desired audience.
Recent sponsorship brokering and activation include:
Principal Partnership of the England Rugby 7's 2013-2016
Shirt sponsorship for the USA Rugby 7's Team 2013-2015
Shirt sponsorship of the USA Rugby 15's Team 2013-2015
Naming rights to the London Double Header at Twickenham Stadium 2013-2014
The England v Australia Legends at Twickenham Stoop 2013
The Greene King IPA RFU Championship 2013-2015
Old Speckled Hen and Belhaven Best Golf Open 2013-2016
The Srixon Industry Invitational 2014-2015
The Brewin Dolphin Industry Invitational 2010-2013
Official off-field clothing of Harlequins Rugby Football Club 2010-2012
Official timing partner of Harlequins Rugby Football Club 2012
England v Ireland Rugby Legends 2000-2016
England v Wales Rugby Legends 2015
British & Irish Legends v French Legends 2014
England v Wales Rugby Legends 2015
The Official Beer of the Oval 2016
The Official Beer of English Cricket 2016-2021
CASE STUDY
HEATHROW EXPRESS PRINCIPAL PARTNERSHIP OF ENGLAND 7's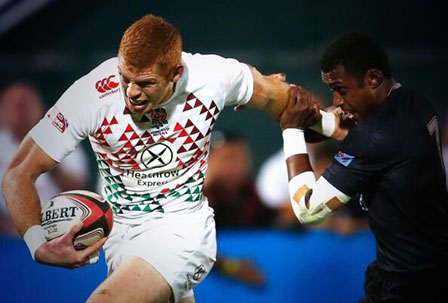 Heathrow Express needed to expose their brand to the International market – more specifically to people travelling into the UK via London Heathrow airport. Their aim was to make Heathrow Express the first choice of transport into London for travellers arriving at London Heathrow airport.
This was the first time Heathrow Express had ever sponsored a team. Committing to a four year Principal Partnership of England Sevens was the perfect opportunity to expose their brand domestically and Internationally to live crowds on the IRB circuit as well as to the million+ television viewers of the IRB series.
Rugby 7's and the HSBC 7's World Series was an unparalleled attraction for Heathrow Express; with the Series broadcast live globally to 154 countries and its tournaments located in some of Heathrow Express' key feeder cities, such as Hong Kong and Dubai.
England Sevens and Heathrow Express are the perfect fit. The England squads compete in several markets which replicate the customer base of Heathrow Express.
There are further significant parallels between Heathrow Express and rugby sevens, with both focusing on speed and efficiency on a global scale.
This agreement provided the platform for Heathrow Express to engage in a new and most timely official partnership with USA Rugby. Launched at the 2013 Hong Kong 7's it was a great period to associate with USA Rugby, with an announcement shortly after they would be playing against the All Blacks in front of a record 62,000 crowd in Chicago. The partnership closed with the 7's Squad claiming their first HSBC Series Win in London in 2015 – it was the smarter choice for Heathrow Express.
"The Heathrow Express relationship with Sportingclass was paramount in successfully developing, securing and implementing both the England RFU Sevens and the USA Rugby sponsorship across an International environment. Their experience in unlocking the value between sport and business and creating profitable growth and global brand recognition sets them apart from any of the agencies I have worked with.

Michael Walker, Head of Marketing & Brand