Events & Hospitality
We do more than simply book hospitality, deliver a golf day or present a sales event. We ensure we understand end objectives and desired outcomes and work with clients to deliver an event or concept that will achieve a positive result. The perfect venue, the ideal speakers, the appropriate hospitality – we know how to engage people. We have had years of experience within sports and we have an immense net work of venues and celebrity personalities we can draw upon.
We are very proud to say the clients we work with have forged long-term, effective relationships via our events platform.
CASE STUDY
DIMENSION DATA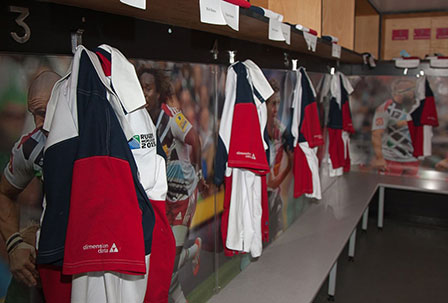 Customer Entertainment
The concept
To engage with clients and their families outside of working hours and develop an entertaining experience that becomes an annual, desired event to attend.
Sportingclass designed the Father and Sons Rugby Training Day, held at the Twickenham Stoop, for Dimension Data as an exclusive way to entertain their clients. Clients are invited to train and be coached by some top legendary names such as Lawrence Dallaglio, Jason Leonard and Andy Gomarsall. They are able to bring their son, daughter, nephew or niece to also take part in this totally memorable and unique experience.
The training session is followed by lunch at Harlequins and then a short walk over to Twickenham Stadium to watch The Aviva Premiership Final or a Barbarians match (or similar).
Result
We have established a regular event that is highly anticipated by clients of Dimension Data. It has become such an unmissable calendar event for many clients that they even enquire early when the event will take place, so they can ensure they are free to attend.
"I just want to say thank you for a fantastic day on Saturday. The whole day was faultless, including the rugby score. We had a really enjoyable day and what a great group of people to share the experience with. Please pass on my thanks to all those involved"

Emma Duncan, Dimension Data
Sales Conference
The concept
We have been running a 'Varsity' Sales conference for Dimension Data for 6 years. The concept is to provide a day of two halves. A sales conference in the morning for 120 employees followed by a relaxed afternoon at The Varsity Match at Twickenham Stadium and an evening out at a private venue.
The idea has been to encourage attendance from all employees whist at the same time providing a fun afternoon and evening to incentivise and boost staff morale. The event also promotes net working  to mitigate any regional boundaries.
Result
The sales conference has always been fully attended and feed-back from the afternoon rugby match and evening has been more than positive.
"Huge thanks to you Rhys, as ever you looked after our every requirement and much more. The event couldn't have gone any better and we have had exceptionally positive feedback! You created an invaluable platform for us to run this important sales conference. So nice that you, Andy, Polly and Suzie all joined us and supported the event. Really great venue and wonderful atmosphere. Thank you so much again for all your hard work."

Chris Lewis, Dimension Data